January 17, 2023
Posted by:

Ato

Category:

Economics
Ghana says debt exchange plan is key to ending economic crisis

Investors' group in Ghana says it has hundreds of members
A group formed by local individual investors in Ghana is asking bondholders to reject a government plan to restructure $12.5 billion of its cedi-denominated obligations.
Ghana last month included local individual investors in its proposal to swap 137.3 billion cedi ($12.5 billion) of debt, expanding it beyond institutions. Investors have been asked to accept losses on interest payments and voluntarily agree to the plan by Jan. 16.
"We have been presented with painfully stark, impoverishing and unsustainable choices – a situation deeply troubling and wholly untenable," the Ghana Individual Bondholders' Forum said in a statement on Wednesday. The group asked bondholders to "reject and refrain from complying with the mandatory deadline."
West Africa's second-largest economy is restructuring both its local and overseas obligations to get a $3 billion bailout from the International Monetary Fund. President Nana Akufo-Addo's government has been struggling to stabilize its economy and slow the depreciation of its currency, which is fueling inflation.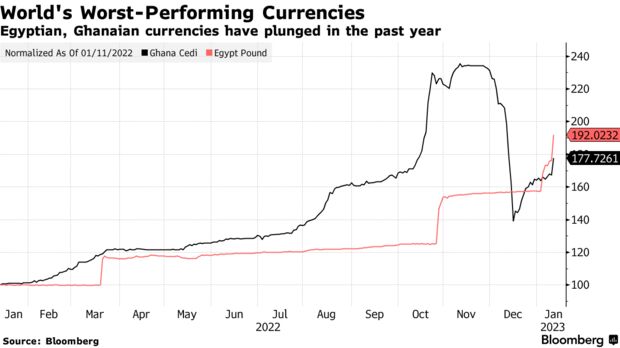 Annual inflation in December accelerated to 54.1% in the world's second-largest cocoa producer, from 50.3% a month prior, making it the seventh-highest rate in the world among 120 nations, including the eurozone, tracked by Bloomberg.
The Ghana Individual Bondholders' Forum has already enrolled hundreds and the group is "expecting membership in the thousands," Senyo Hosi, the group's convener, said by phone.
Individual bondholders hold 35 billion cedis of debt — either directly or through mutual funds, according to Cassiel Ato Forson, a spokesman for Ghana's main opposition party.
A spokesperson for the Ministry of Finance couldn't immediately comment about the group or their bond holdings.
The government needs to restructure the debt to restore economic stability, according to a document released by the Ministry of Finance on Wednesday.
If the participation in the domestic debt exchange is too low, it would jeopardize "the government's efforts to resolve the current crisis and the expected international financial support," according to the document. That would place "further strains on the government's capacity to honor its commitments and repay its debt," according to the administration.
Source: https://www.bloomberg.com/news/articles/2023-01-11/fight-brews-in-ghana-as-individual-investors-balk-at-domestic-debt-exchange-plan